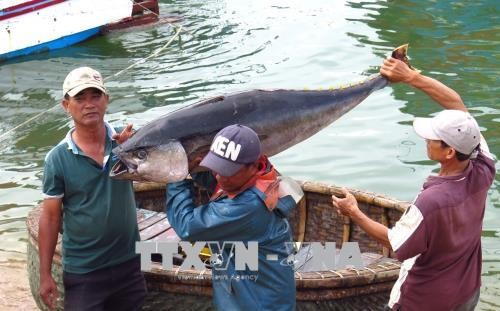 Tuna fishing in Phu Yen. (Photo: The Lap/VNA)
From May 16th to May 24th, the EC Inspectorate visited Vietnam to inspect the implementation of 9 recommendations by the European Commission (EC) on illegal, unreported, and unregulated fishing (IUU).
The EC Inspectorate concluded that the fight against IUU fishing needs more action and suggested a number of things Vietnam should do.
One suggestion was that all fishing vessels longer than 24m be equipped with GPS-assisted cruise control.
The EC also called for increasing the control of fishing vessels at ports, on the sea, and using the cruise control data to ensure that products exported to the European market are traceable, legal, and certified.
To satisfy the EC Inspectorate, Vietnam's Ministry of Agriculture and Rural Development has asked agencies, sectors, and coastal localities to strengthen fisheries management and match the system of marine exploitation management to the needs of each locality so that the EC will consider removing the yellow card.
Minister of Agriculture and Rural Development Nguyen Xuan Cuong said 6 months is insufficient time to transform a "manual fisheries sector" into a responsible and sustainable fisheries sector, but in the long run, it is inevitable.
"We must strive for sustainable fishing with value chains and responsible fishermen. This is our key long-term goal. The Ministry has asked the Prime Minister to continue to issue documents, especially action plans for the 28 coastal provinces that specify the responsibilities of fishermen, enterprises, and management agencies so that the yellow card can be removed soon," Cuong said.
Since the imposition of the yellow card, Vietnam's localities have tried to persuade fishermen not to fish illegally. The number of violations has falled sharply. Only one violation has been reported. Fishing ports must keep exploitation logs. The Fisheries Department has sent inspection teams to fishing ports to ensure compliance.
Vu Van Tam, Deputy Minister of Agriculture and Rural Development, said the Ministry is researching exploitation management software.
He added: "We must focus on carrying out the EC's 9 recommendations. The measures must eliminate illegal fishing and improve origin tracing. Since the EC's decision, Vietnam has been making progress."
The EC recently announced it will extend its yellow card on Vietnam's seafood until next January and offered 9 recommendations to help Vietnam fight illegal, unreported, and unregulated (IUU) fishing.
Nguồn: vovworld.vn