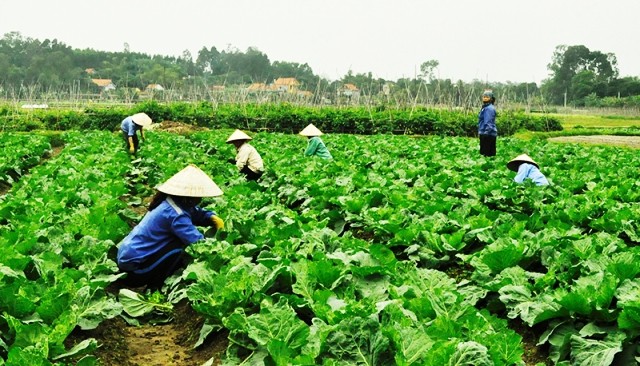 Planting safe and clean vegetables in Quang Yen town, Quang Ninh province.
(Photo: nhandan.com.vn)
The OCOP program mainly focuses on developing agricultural, non-agricultural, and service-based products by tapping the advantages of each locality, by value chain, and is jointly conducted by the private and collective economic sector. It was initiated by the Ministry of Agriculture and Rural Development in 2008. In 2013 Quang Ninh was chosen to pilot the project. Over the past 3 years, the total sales from OCOP economic organisations and manufacturing households have reached nearly 29 million USD, tripling the set target.
More importantly, the number of households and groups of households registering to join the program has increased. Minister of Agriculture and Rural Development Nguyen Xuan Cuong said at a conference to review what has been done in Quang Ninh:
"Through the OCOP program, new-style cooperatives have been formed. Many farmers have now become the owners of small and medium-sized enterprises. The cooperatives and SMEs, the two nucleus components of the production model, have boosted the development of the rural economy. The results have also proven that Vietnam"s farm produce can penetrate the world market through the finished goods of this program. Quang Ninh is a successful model in regards to restructuring rural areas and building new-style rural areas with a focus on product chains through the OCOP program."
Deputy Prime Minister Vuong Dinh Hue, Head of the Steering Committee for the National Target Programs, has signed a Decision approving the One Commune, Once Product program, which will be implemented nationwide until 2020.
The program's overall objective is to develop production and business forms, with priority given to cooperatives and SMEs that produce quality traditional products and services which are competitive both at home and abroad.
The program will contribute to developing the rural economy, modernizing rural areas, structuring the rural workforce, protecting the environment, and preserving the traditional values of Vietnam's rural areas.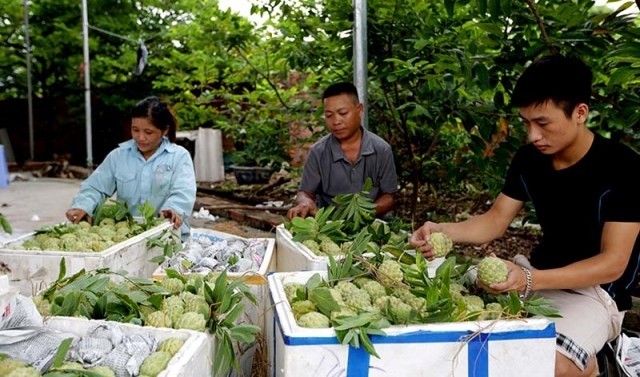 Harvesting custard-apples in Viet Dan commune, Dong Trieu town, Quang Ninh province. (Photo: nhandan.com.vn)
From now until 2020, the program will standardize at least half of existing products, which is equivalent to approximately 2,400 goods, develop 8-10 cultural and tourism village models, and strengthen all firms and cooperatives joining in the project. It will also develop 500 SMEs and cooperatives joining the program.
Deputy Prime Minister Trinh Dinh Dung touched upon the future direction of the program.
Mr. Dung said: "To achieve these goals, we must restructure the economy, and at the same time, combine the development of the rural economy and new-style rural areas. I suggest the development of One Product of One Commune must, first of all, preserve traditional cultural values and promote brands which are competitive in the market."
A management system from the central to the local level and a set of criteria for product evaluation and rating will be set up to successfully replicate the One Commune, One Product model nationwide.
Nguồn: vovworld.vn