The panorama of My Tho City, the township of Tien Giang. (Photo: baodautu.vn)
According to the Ministry of Planning and Investment, 4,600 new businesses with a total registered capital of more than 1.9 billion USD were established in the Mekong Delta in the first half of this year, up 8.7% over last year.
Seven of 13 regional provinces and cities attracted 47 new foreign direct investment (FDI) projects with registered capital exceeding 800 million USD, proving that the Mekong Delta is becoming more attractive to investors looking to invest in agriculture, manufacturing, processing, and tourism.
The Vietnam Chamber of Commerce and Industry branch in Can Tho reports that when the Comprehensive and Progressive Agreement for Trans-Pacific Partnership (CPTPP) takes effect, it will create new business opportunities for Vietnamese enterprises to expand their export markets.
Phung Thi Lan Phuong of the VCCI branch in Can Tho said: "In the future we should attract investment in hi-tech agriculture and increase the productivity of Vietnam"s agricultural sector to satisfy demanding import markets including the markets of CPTPP members, the EU, and the US. We hope the CPTPP will help Vietnam attract more investment in agriculture so we can develop sustainably with more qualified products."
Can Tho city, at the center of the Mekong Delta, is focusing on logistics, high-tech agriculture, and IT and cooperating with other localities and institutions in the region to attract investment and train high quality human resources. The city is also working hard to improve its investment and business environment.
Vo Thanh Tong, Chairman of Can Tho City People"s Committee, said Can Tho is promoting trade, helping enterprises expand their markets, boosting exports, and increasing links for domestic consumption. It is also enhancing cooperation with other provinces to advertise rice, fishery products, and fruits to domestic and foreign buyers.
At a recent investment promotion conference in Can Tho, Prime Minister Nguyen Xuan Phuc praised the city's administrative reforms and improvement of its investment environment.
He said: "Investors, enterprises, and the business environment have all played important roles in the city's achievements. Investors need to work closely with the local administration to achieve its vision for the next decade. Local authorities should streamline registration procedures."
In the first half of this year, Tien Giang attracted 18 projects, 7 of them FDI were projects with a registered capital of more than 300 million USD. Tien Giang is working out measures to attract investment in high-tech projects to produce competitive, high quality products.
Tran Thanh Duc, Deputy Chairman of the Provincial People's Committee, said: "In the third quarter, the provincial People"s Committee will promulgate a plan to improve the administrative reform index until 2020. The plan will identify strengths and weaknesses and propose specific measures to ensure that administrative reform is completed on schedule. We will focus on simplifying administrative procedures, speeding up online public services, and delivering results via the postal system."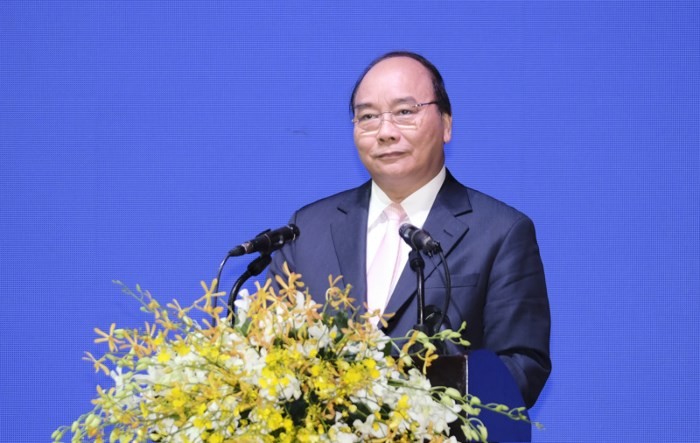 Prime Minister Nguyen Xuan Phuc delivers speech at the Conference on Investment Promotion in Can Tho City. (Photo: VGP)
Prime Minister Nguyen Xuan Phuc said he believes Tien Giang will be a primary driver of the region's economy, adding: "Tien Giang needs to concentrate on high-tech agriculture, safe fruits, farm produce processing, ecotourism, and building a logistics industrial zone at the Xoai Rap deep-water port."
Nguồn: vovworld.vn